—
at 14 Oct 2018 08:06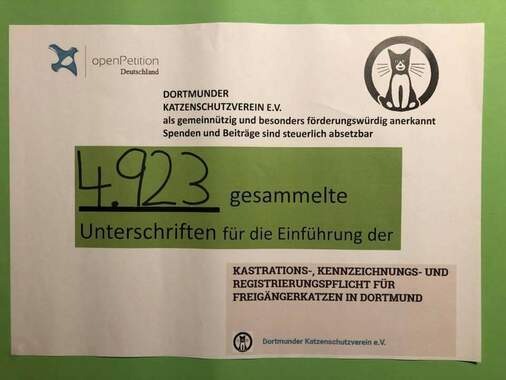 CATS CASTRATION DUTY COMES ALSO IN DORTMUND

WE MADE IT ! THE APPLICATION FOR A CASTRATION AND MARKING OBLIGATION IN DORTMUND WAS TAKEN ON 25.09.2018 IN THE EXCLUSION OF PUBLIC ORDER (...)

One day before, we were able to hand over our signature collection with 4,923 votes from the petition to the director of the public order office (Ms. Siekmann). Our thanks go to every individual who supported us. We are proud, happy and relieved at the same time.

However, the joy is a little clouded by the fact that we now additionally - in addition to all data already submitted - a significant data collection in the next 12 months must make. This is a prerequisite for the introduction of the legally compliant regulation.